Product Features
Siemens 6ES7531-7KF00-0AB0 Analog Input Module can only be configured in Totally Integrated Automation Portal with STEP 7 Professional V12 or higher. The high-speed command execution of Siemens 6ES7531-7KF00-0AB0 Analog Input Module includes language expansion, new data types, faster backplane bus, optimized code generation. Siemens 6ES7531-7KF00-0AB0 Analog Input Module has powerful communication functions.
Siemens 6ES7531-7KF00-0AB0 Analog Input Module
SIMATIC S7-1500 analog input module AI 8xU/I/RTD/TC ST, 16-bit resolution, accuracy 0.3%, 8 channels in groups of 8; 4 channels for RTD measurement, common-mode voltage 10 V; Diagnostics; Hardware interrupts; Delivery including infeed element, shield bracket, and shield terminal: Front connector (screw terminals or push-in) to be ordered separately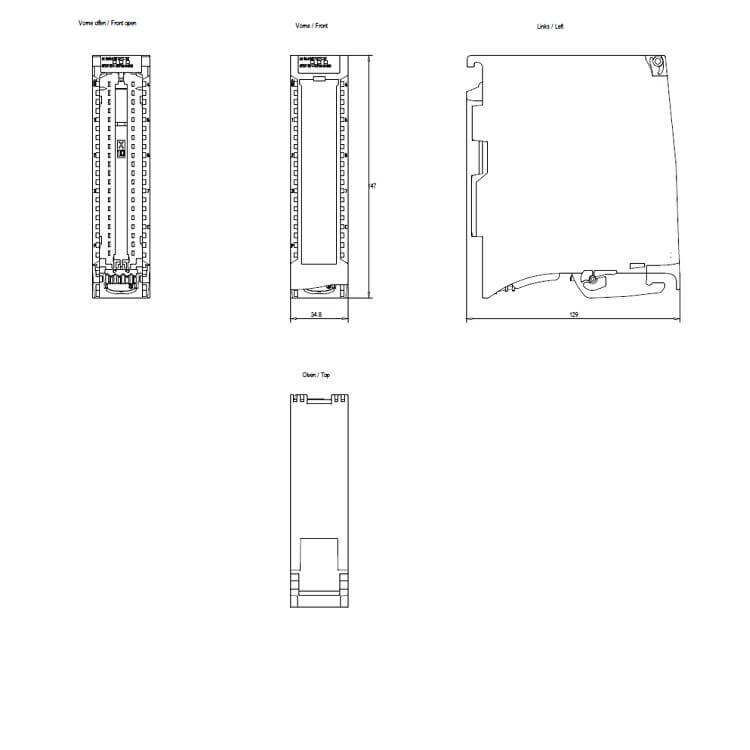 Siemens 6ES7531-7KF00-0AB0 Analog Input Module
SIMATIC S7-1500 signal modules
SIMATIC S7-1500 I/O modules
Scalability, performance, and usability
SIMATIC S7-1500/ET 200MP signal or periphery modules are the interface between controller and process. They can be used centrally on the SIMATIC S7-1500 CPU or in a decentralized SIMATIC ET 200MP peripheral system.
The perfect combination of precision and convenience
Analog input modules are designed to record process signals, such as pressure or temperature, as 16-bit digital values. Depending on the measurement type of the module, they also enable measurement of current, voltage, and resistance, and the connection of resistance thermometers and thermocouples.
Analog output modules convert a 16-bit digital value into a current or a voltage and output this to the process. They are suitable for controlling proportional valves or small servo drives.
Product Parameters
| | |
| --- | --- |
| Product name | Siemens 6ES7531-7KF00-0AB0 Analog Input Module |
| Manufacturer | Siemens |
| Brand | Siemens |
| Series | SIMATIC S7-1500 |
| Part Number | 6ES7531-7KF00-0AB0 |
| Product Type | Analog Input Module |
| Supply voltage | 24V |
| Input current | Current consumption, max. 240 mA; with 24 V DC supply |
| Power | Power available from the backplane bus 0.7 W |
| Power loss | Power loss, typ. 2.7 W |
| Size | 35*147*129mm |
| Weight | 310g |
Application and After-Sales Service
PLC has been widely used in various industries such as steel, petroleum, chemical industry, electric power, building materials, machinery manufacturing, automobiles, textiles, transportation, environmental protection, culture, and entertainment at home and abroad.
The usage can be roughly classified into the following categories
1. Logic control of the switch
2. Analog control
3. Motion control
4. Process control
5. Data processing
6. Communication and networking
After-sales service
Online support and Video technical support.