Product Features
Flowserve Digital Positioner Logix 520 Si is a two-wire, 4-20 mA input digital valve positioner. Flowserve Digital Positioner Logix 520 Si also utilizes the HART protocol to allow two-way remote communication with the positioner. Flowserve Digital Positioner Logix 520 Si controls single-acting actuators with linear and rotary mountings. Flowserve Digital Positioner Logix 520 Si is completely powered by the 4-20 mA input signal. The minimum input signal required to function is 3,6 mA.
Flowserve Digital Positioner Logix 520 Si is insensitive to supply pressure changes and can handle supply pressures from 1,5to 6 barg (22 to 87 psig), a supply regulator is usually not required; however, in applications where the supply pressure is higher than the maximum actuator pressure rating a supply regulator is re- quired to lower the pressure to the actuator's maximum rating (not to be confused with operating range).A coalescing air filter is recommended for all applications due to the close tolerances in the positioner.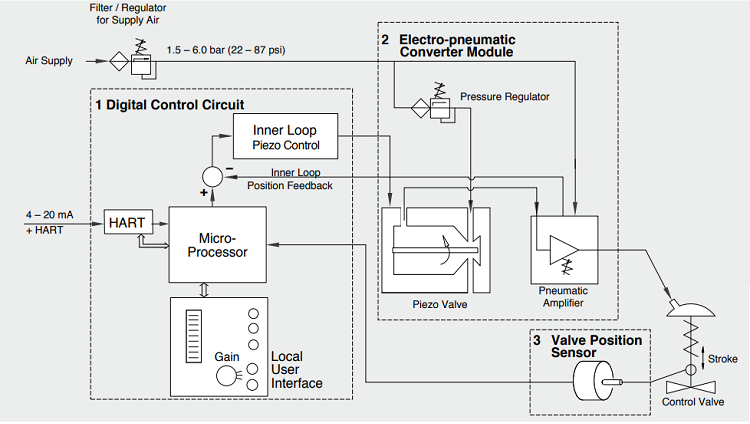 The Logix 520si positioner is a digital positioner that incorporates HART protocol for communication. The positioner consists of three main modules:
1. The microprocessor-based electronic control module includes
HART communications and direct local user interface switches
2. The piezo valve-based electro-pneumatic converter module
3. The infinite resolution valve position sensor.
The complete control circuit is powered by the two-wire, 4-20 mA command signal. The HART module sends and receives the superimposed FSK HART digital communications over the 4-20 mA signal wires providing two-way remote digital communications to the microproces sor. The analog 4-20 mA command is passed to the micro processor, where it is compared to the measured valve stem position.
Product Parameters
Product Name
Flowserve Digital Positioner Logix 520 Si
Input Signal Range
4 – 20 mA (HART)
Compliance Voltage
12 VDC
Voltage Supply (maximum)
30 VDC
Minimum Required Operating Current
3,6 mA
Feedback Shaft Rotation
Min. 15°, max 90°

40° recommended for linear

applications

Air Supply Quality
Free from moisture, oil and dust

per IEC 770 and ISA-7.0.01

Input Pressure Range
1,5 to 6,0 bar (22 to 87 psi)
Output Pressure Range
0 to 100% of air supply pressure
Linearity
< +/- 1,0%
Resolution
< 0,1%
Repeatability
< 0,2%
Deadband
< 0,2%
Application and After-Sales Service
The main application areas of valve positioners include:
1. Coal gasification project
2. Clean energy gasification unit
3. Electricity
4. Hydrocarbons
5. Water supply and water treatment
6. Pulp and paper
7. Industrial environment
8. Food and beverage
9. Life sciences and other fields
After-sales service
Online support and Video technical support.