Product Features
• SIL 3 capable, robust construction works in the harshest conditions for temperature, vibration, dirt, moisture, etc.
• High performance and precision control are provided by sensitive non-contact feedback sensor coupled with poppet-style relay. Predictive algorithms continuously monitor the health of the valve and actuator.
• Simple to use, one-button setup automatically configures the zero, span and gain of the positioner for most valves in less than 60 seconds
• Adaptable design is configurable to interface with valve, process and control system needs using HART, Foundation Fieldbus, 4-20 or discrete I/O signals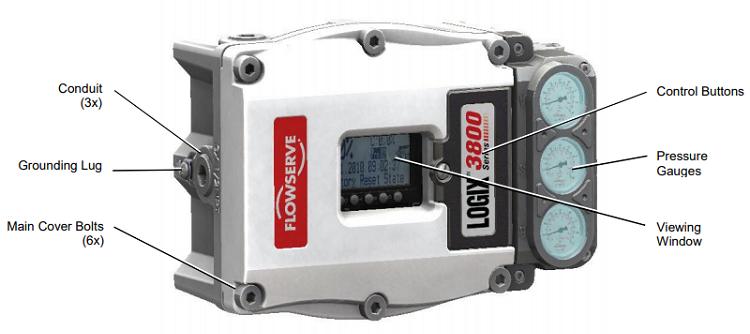 The Flowserve Logix 3800 digital positioner helps plant owners and operators maximize production while minimizing operating costs. It's the oil and gas and chemical industries' choice for applications that require a balance between technological sophistication and long-lasting reliability in tough environments. This high-precision positioner simplifies installation through easy configuration and calibration. It also facilitates improvements in process uptime, reliability and process throughput. Advanced diagnostics not only identify developing problems in the control valve, but also help guide corrective actions to ensure reduced return-to operation times. Compatible with linear and rotary valves and actuators, the Logix 3800 digital positioner offers embedded measurement, data reduction, and diagnostic functionalities. Its control system-independent user interface facilitates easy configuration, operation and system diagnostics with a single view.
Product Parameters
Product name
Flowserve Digital Positioner Logix 3800
Resolution
≤0.25%
Linearity
±0.80%
Repeatability
≤0.05%
Hysteresis
≤1.00%
Deadband
≤0.10%
Sensitivity
≤0.25%
Stability
≤0.40%
Long-term drift
≤0.50%
Supply pressure effect
≤0.20% per

10 psi (0.69 bar)

Output air capacity Standard relay
18 SCFM 60 psi (Cv 0.47)
Output air capacity Low bleed relay
18 SCFM 60 psi (Cv 0.47)
Air consumption Standard relay
0.3 SCFM 60 psi (Cv 0.008)
Air consumption Low bleed relay
0.075 SCFM 60 psi (Cv 0.002)
Temperature range Operating
-55°C to 85°C (-67°F to 185°F)
Application and After-Sales Service
The main application areas of valve positioners include:
1. Coal gasification project
2. Clean energy gasification unit
3. Electricity
4. Hydrocarbons
5. Water supply and water treatment
6. Pulp and paper
7. Industrial environment
8. Food and beverage
9. Life sciences and other fields
After-sales service
Online support and Video technical support.