Product Features
• Enhanced performance from high-gain, high-capacity spool valve assembly, providing very quick and accurate actuator and valve response plus simple commissioning with non-interactive, zero-span adjustment
• Longer service life assured by robust, simple design, delivering maximum reliability in all environments
• Versatility from compact, modular design, allowing for simple addition of I/P converters and F5 feedback unit; suitable for single- or double-acting applications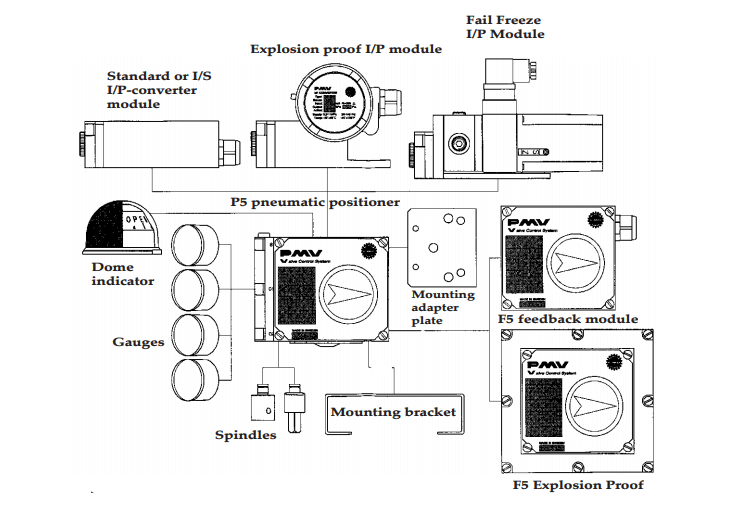 The base unit of the system is the pneumatic positioner, used in either single or double acting applications. P5 comes standard with built in dampers, a high gain spool valve assembly, gauge ports and an O-ring sealed housing. The housing utilizes a unique O-ring seal that can be adjusted to a sealed or drained position. The modular design concept allows for easy addition of accessories such as I/P converter and/or a feedback package, both which are isolated from the basic pneumatic unit. These accessories can be factory or field mounted. Ease of calibration and maintenance are built into to the design with easily accessible span and zero adjustment, and very simple parts replacement.
The EP5 has same features and benefits as the P5 positioner. It's modular to suit several applications, General applications, intrinsically safe, explosion proof and fail freeze versions are offered.
Product Parameters
Product name
Flowserve Analog Positioner P5 and EP5
Type
P5
EP5
Input Signal
20-100 kPa/3-15 Psi (6-30 optional)
4-20 mA
Linearity
≤ 0,5%*
≤ 0,5%*
Hysteresis
≤ 0,75%*
≤ 0,5%*
Repeatability
≤ 0,5%*
≤ 0,5%*
Gain
(pressure 600 kPa/87 Psi)

1 000 (kPa/kPa)

Min 66%/% ISA S75.13

–
Temperature range
-20°C to +85°C (-4°F to 185°F)
Connector threads
1/4″ NPT or G
Gauge threads
1/8″ NPT or G
Weight std.
1,1 kg/2.4 lbs
1,5 kg/3.4 lbs
Weight with gauges
1,3 kg/2.9 lbs
1,8 kg/3.9 lbs
Ingress protection
–
IP 66/NEMA 4
Application and After-Sales Service
The main application areas of valve positioners include:
1. Coal gasification project
2. Clean energy gasification unit
3. Electricity
4. Hydrocarbons
5. Water supply and water treatment
6. Pulp and paper
7. Industrial environment
8. Food and beverage
9. Life sciences and other fields
After-sales service
Online support and Video technical support.